All around the world, the December holiday season is now in full swing. There are lots of ways people celebrate this time of year, including spiritual events, family get-togethers, or maybe just taking some time away from work and from the day-to-day. But you don't have to have snow on the ground to enjoy everything that the Festive Season can bring. Sand and sea can also bring out the best in peoples' spirits and as you might expect, the rich history and wonderful food of Belize make a December or January holiday an extra special event.
Of course, there are the festivals that most North Americans are already familiar with. In Belize, Christmas comes with the kids dreaming of a visit from Santa Claus, and many people attend Mass. And the food at this time of year? It's as hearty and satisfying as you would expect. There's turkey and stuffing to be had, of course, but the locals also love to serve up rice and beans, tortillas, and chicken tamales, which are a traditional meal of the Mayan culture.
Belize is rich in history, and its citizens have roots that spread in all directions. Many are part of the Mayan culture that has existed here for thousands of years. Others trace their families back to Africa, or even further around the world. As a consequence the December season sees events and parades filling the streets that pay homage to peoples' histories through caroling, live music and vibrant costume. Two events that should not be missed are the Maya Deer Dance, and the Garifuna Jankunu Dance.
The Holiday Season on Ambergris Caye
As I have mentioned in earlier blogs, there are always great restaurants and beachside pubs to visit right here on Ambergris Caye where you can enjoy a seasonal meal or just simply dig in to the great seafood and fare that's available all year 'round.
Some of the guests who stay with us over the Christmas/Holiday season are regulars – they come by once a year or every couple of years to soak in the sun and benefit from the restorative atmosphere of Ambergris Caye. Even in December, the sun is strong and hot. But it's also great fun to welcome people who have never experienced Quanzaa or Christmas on the beach. It's a wonderfully strange thing for them to – for the first time – walk along the water's edge and sing carols while looking at tide pools and palm trees instead of snow. In fact, the snowbound Christmas of home seems like another world when surrounded by the rich blues and greens of the tropics.
And instead of battling the crowds at a Boxing Week sale in a shopping mall, there are oceans, park, jungles and historical places to explore.
New Year's Eve
Of course, the tail end of the festive season is New Year's Eve. People often remember where they were on New Year's more than they do on Christmas Day. And this is definitely the case when the fireworks and singing happen in the warm air of a Caribbean midnight.
There are plenty of locations to ring in the new year in style on the Caye as well as in San Pedro or on the mainland. Maybe you will even be invited to partake in the Spanish tradition of "the twelve grapes," in which you eat one grape for each chime of the New Year's clock to bring luck for the new year.
It's not too late to come down here for a Christmas or New Year's getaway. Even if January or February fits your schedule better, we will always make sure your time is memorable and wonderful.
As for me, I will be hanging a stocking for Charlie, our canine property manager. I will attach it carefully to one of the palms leading down to the beach, since that's his favorite place to be, and I think Santa knows that.
So hopefully we'll see you here. We would love to celebrate the holidays with you. But if it has to be next December, that's great too. You and your family will have a year of looking forward to a well-deserved break, and we will be right here, helping you do just that.
Happy Holidays – whatever form they take – from me, Bret, Charlie, Francisco and the whole Coastal Breezes team!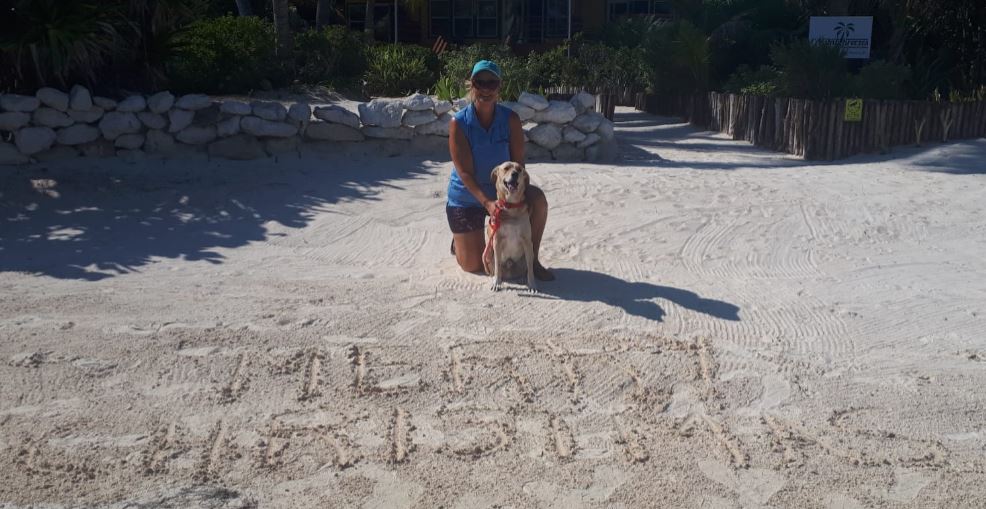 For more information about our beach house properties, please visit us at coastalbreezes.bz, and follow us on Facebook, Twitter and Instagram.