Music is a natural expression of being human. Wherever there are people, there will be music, drawn together by a sense of community, guided by a rhythm which is always just an echo of our own human hearts. But although it may be universal, different types of music have emerged that represent the history and energies of the people in the area and Belize, of course is no exception.
Belizean music contains a rich blend of Central American, African and European styles and it delivers a warm and friendly energy. Depending were you come from, you might hear hints within the tunes of Zydeco, Creole, traditional African folk songs or Western rock and roll.
In addition to its cultural sources, music is also dependent on the types of instruments available. Belizean music is no exception. Brukdown music, for example, was created in the logging camps of the country's interior. Its name comes from the Creole term for "breakdown," referring to "broken down Calypso style." is famous for having not just banjo, accordion a drums, but also the jawbone of a donkey, played by running a stick up and down the teeth.
The Garifuna people have their ancestral roots in Africa and were brought brought to Central America during the slave trade. Their music is now a staple of Belizean culture and depends heavily of drum patterns, using a call-and-answer pattern between drummers.
It's a really wonderful experience to kick back and listen to a live band play. Whether the music is traditional or more modern, there's nothing quite like enjoying great music while feeling a warm ocean breeze and hearing waves or surf in the distance. One of my favorite places is Fido's Beach Bar, which has a stage area with occasional live music. They also have the best fish and chips in town, which is quite an achievement, given that food is an equally high priority as music on Belize and especially on Ambergris Caye.

Another great local spot is Bernie's Back. They are big on karaoke, which means everyone gets involved. Everyone who wants to, that is. The Dive Bar gets consistently high ratings from visitors for their food as well as their entertainment. And once you get into San Pedro, there are many more to choose from. FaceBook is a good resource for scoping out places and reading reviews.
As might be expected, modern rock and pop music is in very good supply. We have even seen some famous faces including Kelly McGuire, and members of Steve Miller's Band, who go by the name of "Abracadabra."
Yes, the music is everywhere, and nothing shows the variety and vivaciousness of Belizean music and culture quite like a national party. Last Friday, September 20, 2019 was our 38th anniversary of independence and everyone was invited to celebrate.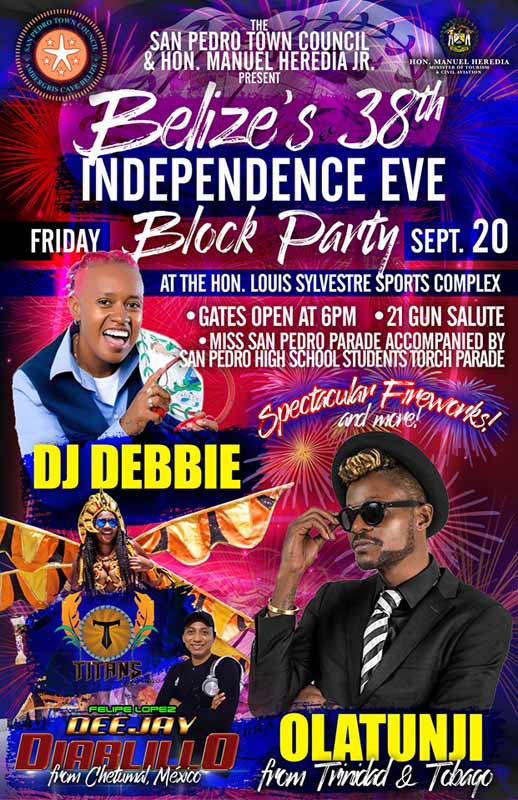 Of course, you don't have to wait until next year to enjoy a block party of live music on the beach. Whether it's turtle shells, steel drums or bass guitars holding down the beat, there's enough heat and energy to make any night a party.
For more information about our beach house properties, please visit us at coastalbreezes.bz, and follow us on Facebook, Twitter and Instagram.