Since the 1970s, Richard Branson has been an icon of business success. Starting with a music magazine, he parlayed his charisma, creativity, and drive into many enormously successful ventures, including air travel, music retail, mobile communications and much more. His writings and lessons are staples of business lectures and classes around the world, and he has made great use of his rock-star looks and megawatt smile to distinguish himself from his competitors. He also has a hammock.
Sir Richard is famous for showing off his favorite office: a hammock slung between two palm trees.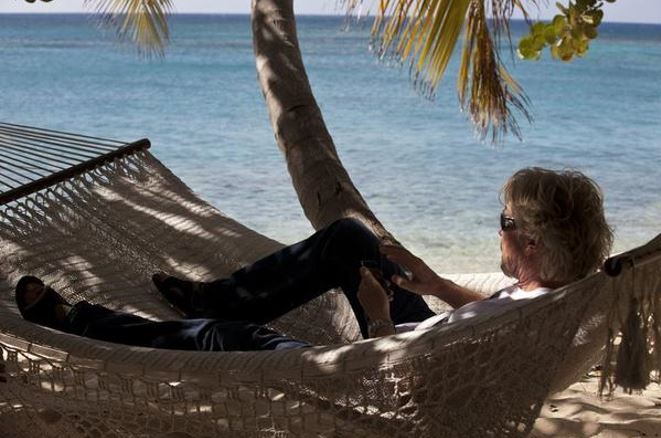 Flying in the face of conventional belief that corporate decisions must be made in the boardroom, Sir Richard has stated many times, his best work comes from being surrounded by the breezes and beauty of natural environments, much of these being in the Caribbean.
Most people, however, have been conditioned to believe in a separation of ideas: work happens at work – in glass towers, offices and cubicles, and that time away from these colorless spaces happens just once per year on an annual vacation. Many don't even allow themselves that luxury and never take their time off. Time off, after all, connotes being removed from one's job temporarily, and statistics show that's too much of a disruption.
But a significant world event – one that is still happening – is teaching us something very different. Work can happen anywhere there is an internet connection, and that includes in traditional "vacation spaces." The coronavirus continues to spread around the world, and employers, including many very large companies like Ford, are telling their workers to stay home if possible. The specter of contagion has forced companies to re-examine the validity of remote work, after two decades of dismissing it as secondary to being in the office.
For anyone whose job involves working on a computer and having meetings, the technology exists to make the commute to the office less necessary to productivity and in fact, remote work is already proving itself as superior from every perspective: use of time, work-life balance, employee retention, collaboration and overall productivity. Technologies like Cisco Webex, Zoom, Microsoft Teams and Slack are empowering individuals with the capacity to meet, work and communicate with far greater clarity and convenience than ever before. Now that the coronavirus is making the prospect of in-person meetings less appealing the notion of remote work as a "thing" is poised to take hold.
Even after this coronavirus outbreak peaks and wanes, it is likely that the executives at many companies will sit up and take notice of the fact that remote work actually does work, and its savings in travel, office space, and time usage are tangible and significant.
Now, let's bring these two concepts together. A vacation destination need not be thought of solely as that place to go to for a vacation. It can – and should be – thought of as part of life. Richard Branson has shown it can be done. A beachside hammock with a WiFi connection allows him as a CEO of Virgin to run his businesses from wherever he wants to be. So why not you?
Alongside my role as owner and manager of Coastal Breezes here on Ambergris Caye, I also own and manage executive suites in the Toronto area, and I am able to look after these, and my other businesses, from my very own hammock, on the beach.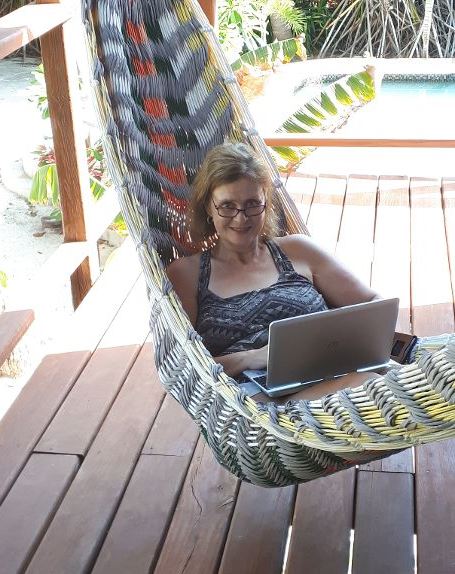 This is how work is done now. Technology is slowly removing the need and obligation for people to always be in a specific place to get their work done. This allows many types of professionals to choose to work from home at least some of the time, and as an extension of that, could easily allow them to spend one or more work-weeks per year returning their emails from their own beach hammock.
Some may argue that the last thing they would want to do is to take their work and their email along with them on vacation. But I would argue back two things:
Most people already do. The idea of shutting off for two weeks – as healthy as that appears – is not something most people are willing to do. If they are in a job that is based on communication and collaboration, they want to stay in the loop even when they're away.
More to the point, it helps to not call this a vacation. It can be a workweek, just done in a different location. A nicer, warmer, more vibrant location. It's a change of scenery that does not force you to disconnect from the work at hand.
The health benefits of this beachfront workweek will seep into your soul regardless of how busy you wish to be. Seeing a sunrise or sunset over the water, watching pelicans, and smelling warm sand are powerful substitutes for traffic gridlock and crowded subways. Exercise doesn't even feel like exercise when it comes disguised as a walk along the beach.
Our message here is not to diminish or exploit the tragedy of the coronavirus outbreak in any way, but to discover a silver lining: remote work is now coming into its own as a matter of necessity. With this comes the opportunity for the long sought-after quality of life that many people unwittingly forfeited to locate and hold onto a desk job. Now, quality of work and quality of life are poised to conjoin in a way that couldn't even have existed a few years ago: the technology exists to make it happen and now the mindset is developing to make it legitimate.
So, locations like Debbie's will always welcome vacation travelers, but as she says, "why wait that long?" Your emails and meetings can be done just as easily from the beach as from an office, and the view is so much better.
For more information about our beach house properties, please visit us at coastalbreezes.bz, and follow us on Facebook, Twitter and Instagram.