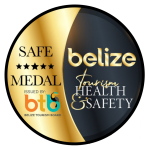 We are proud to announce that we are now a Gold Standard facility in Belize. The Gold Standard was implemented by the Belize Tourism Board to ensure that visitors could be assured of a safe stay during the difficult times that the COVID-19 pandemic has brought upon the world. It consists of a 9-point program focused on health and safety standards that includes:
Having a Gold Standard manager appointed to oversee compliance
Monitoring and reporting with temperature checks and health monitoring
Practicing social distancing for workers and visitors
Enhanced cleaning and sanitization practices, use of PPE for workers and face masks for everyone
Use of a rapid and clear response plan for suspected COVID-19 cases including designated Isolation/Quarantine rooms
Clear and consistent communication protocols
Access to sanitizing stations across the property
Online check-in/out, contactless payment systems, and automated ordering/booking systems
Regular training of employees to manage existing protocols and implement new ones as required
This means that travelers will be able to enjoy a well-deserved Belize vacation with us, knowing their safety is the hotel's top priority.
This has been a difficult year for everyone, and, as you likely already know, there is light at the end of the tunnel in the form of vaccines and vaccination programs. It will take a while for everyone to get their shot, of course, with front-line healthcare workers quite appropriately taking top priority. This means we all still need to take precautions. But it also means that safe travel is achievable. American Airlines, United Airlines and Delta already have regular flights to Goldson International Airport.
We have worked very hard these past few months to set up our facility to meet the Gold Standard requirements. Now that the winter weather has settled in across North America, it's a great time to schedule some R&R with us.
We expect that 2021 will be a year of great release and relief for people once the pandemic has been brought under control. Back in 1918, the Spanish Flu gripped the world as a pandemic, and had many of the same problems, including people refusing to wear masks. It is thought that much of the craziness of the 1920s – such as Flappers, dancing and an explosion of new music was in part a celebration of the conclusion of those dark times. Remember, the 1918 pandemic essentially helped end the First World War, so there was much to celebrate.
So we are looking forward to a great year of reconciliation and celebration in 2021. I think that once it is safe to do so, parties, festivals, and events all over the world will be attended even more enthusiastically than ever, simply out of the joy of being together.
That's one reason why we are proud to have earned the Gold Standard certification. It is our pledge to you to take every effort to ensure the safety of our guests and employees, not only now, where the vaccination program has only just started in North America and Europe, but always, through the year to come, as we welcome our new normal.
There are many wonderful places to visit and experience in and around Belize, as our previous blog posts have shown, and if there's one thing we have learned during the dark year of 2020, it is the preciousness of life, both in terms of the people we share our lives with and also in the experiences we have. So now it's time to think about reconnecting with both of these wonderful concepts, and we really want to be a part of that with you.
So stay safe, careful and patient, and hopefully we will meet you on our beach, under the magnificent Belizean sky sometime soon.
For more information about our beach house properties, please visit us at coastalbreezes.bz, and follow us on Facebook, Twitter and Instagram.